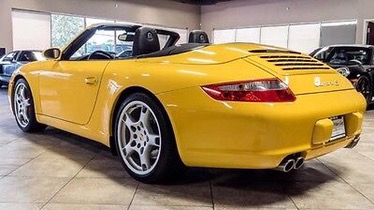 Dream team,
Two weeks ago I met a mentor,
I said: I want this car, but I am not materialistic.
He said: Of course you are materialistic!!!
I said: tell me, why do I want this car?
He said:
The car is a time machine. It is a state of mind inducer. When you step in that car your mind changes. You feel better. That's why you are a successful man that you are.
You buy the car because you can. And because the car can help you move time, shift time and create your next universe.
So I tell you now dream team:
Thoughts are things and things are thoughts. Beautiful things lead to beautiful thoughts and beautiful thoughts lead to beautiful things.
And now I'm going to sit in my "imaginary" brand new Yellow porsche 911 Cabrio 4S. That consists of 99,9999% of thought 0,0001% of matter.
Zoof: beam me up to another universe Scotty.