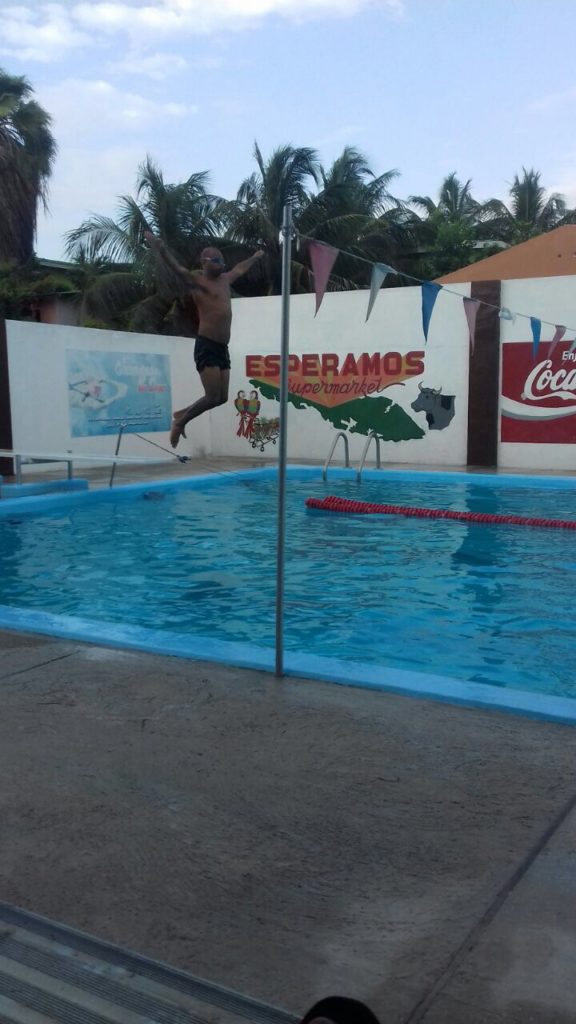 Swimming. Four times a week, I can get into my car and drive 12.5 minutes where my coach Mr. Djaoen is waiting for me. This man is an experienced trainer and coach and tells me every time I do a great jump: "You are just lucky. Do it again!"
As a business coach and trainer for online coaches, trainers and writers, I enjoy this because he challenges me. First, he trained me to swim like Ian Thorpe and now he coaches me to get to the next level.
Like I told you yesterday: I could not have done this – take 4 times a week to do my swimming routine, if I did not have a business system that works for me. If I did not have my business model running. A system is a way to do things. To automate things.
Before this, I was mostly working on fixed time projects and having one on one sessions.
Let me ask you this: Why do you have a business? If you are a coach, trainer, writer – helping people offline or online, why do you have a business? What does the business have to do for you?
By organizing my business to work for me the way I do it now, I was able to create this swimming routine. It is a mental process that I have put into my weekly planning. It is something that I prioritized in my life. I can show you in the future how I was able to create this routine. And what other routines I am creating next. The main benefits of this weekly swimming routine are:
– My health has increased considerably
– My motivation to outsource more tasks in my business has increased (what can I do with more time? Learn to play the piano? Read more books?)
– I have more time to relax during the week (swimming is like meditation)
– I created more freedom. My business works for me instead of me working only for my business.
But there were some challenges. My main challenge was that I had to systemize my business to thrive. I had to look at my business differently. At the way I'm launching my new courses to coaches, trainers and writers. I had to decide to use online systems and put them together to work. After I systemized my business everything changed.
I have put these thoughts into an online course I'm about to launch. We have been working on this now for some time. It is about the easy steps I took to systemize my business so I could thrive online. It is about realizing your dream coaching and training business online. This course will be awesome!!
But it is not about me. About my challenges. It is about people like you. And I want to get your input before I launch my course.
Here is the main question I have for you so I can finish fine tuning this course: What is your most important challenge right now in your business? What is holding you back to get more sales, more freedom and do the things in your life that are important for you?
https://nl.surveymonkey.com/r/3QKCJ5Q
Because I really really am interested in this and learn how I can help you from where you are now, the things you are struggling with, I have put a quick online survey together for you. It will not take you more than 5 minutes to answer. I would be soo happy if you could answer these few questions for me so that I can help you more to get to more sales, more freedom, a healthier life. Please help me here, so I can help you.
Click on this link and fill it in. Everything you say there will be treated confidentially.
I will use this survey to really focus on the things you struggle with in my next course I'm currently building. This course will be launched and open for new students in a few months.
Click now and tell me what your number one struggle is. https://nl.surveymonkey.com/r/3QKCJ5Q
-Runy
Comments
comments