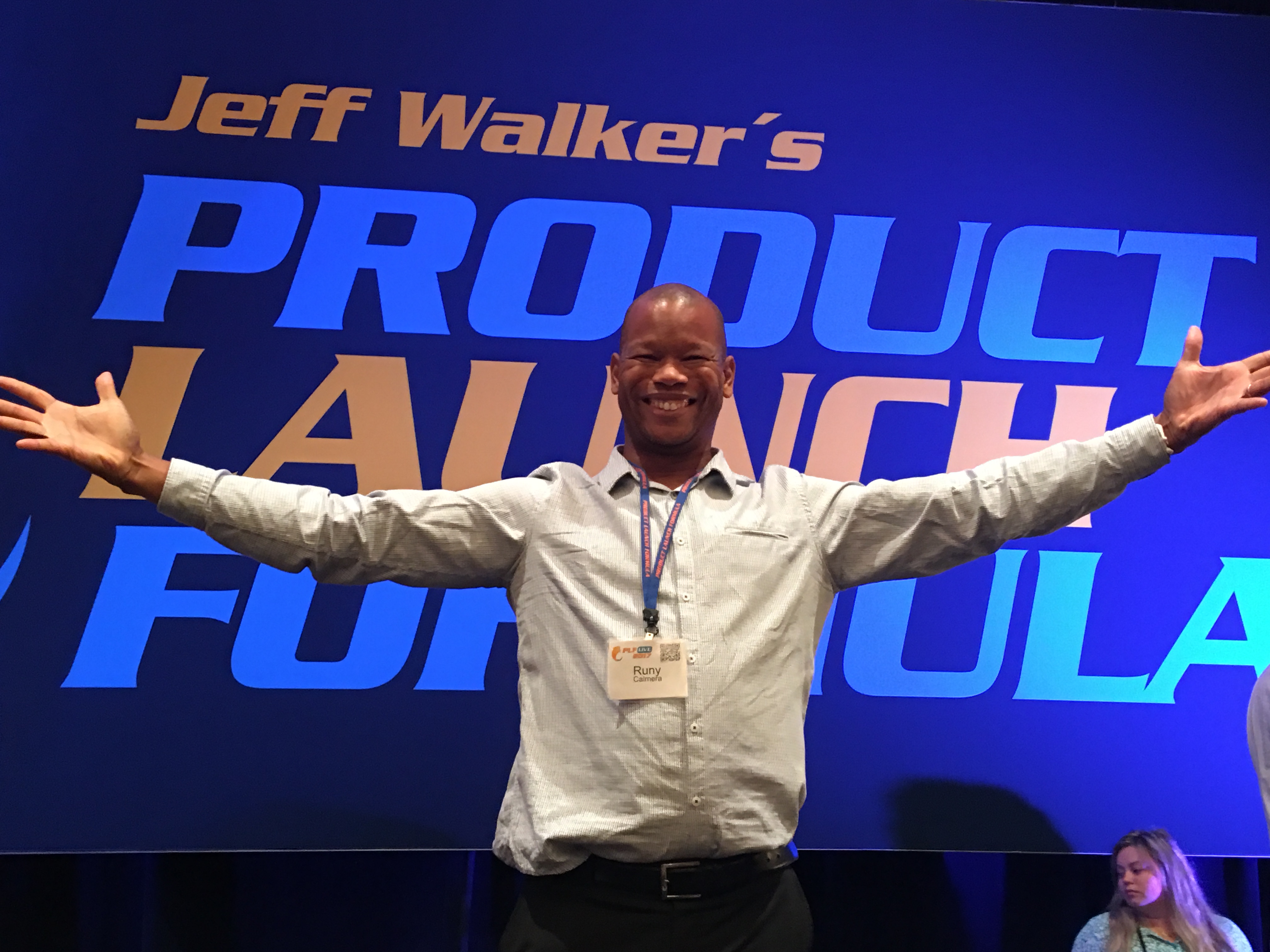 I was this guy from a poor family who's dad did everything for all his friends for free. While my mom watched that in frustration and despair. "How are we going to eat if you give it all away for free?" While there was no current to put on the lights so I could read my books to pass my exam.
I was this guy with his mother turning to him as a kid of only 7 years old and say: "Runy, is that a book you have in your hands?" "Yes mom", I would say. And she would say: "No. That book can be everything you want it to be. A villa in the Caribbean, a brand new car, experiences with your family in far away locations, and sharing your gifts to many people. You can get out of here Runy. Just imagine."
I'm writing you this from my new macbook Pro. While I'm traveling from Phoenix, Arizona, USA back home to Curacao, Caribbean, where I live. I bought the macbook yesterday in Phoenix Arizona. I was there for a conference of Jeff Walker, the Product Launch Formula Live 2017. There were 1100 entrepreneurs there. And I was there. On stage. I was one of the 1100 coaches and trainers that share their passion online. That help others expand their world.
And I'm here to teach you the power of Imagination. The power of dreams. The power of your mind.
I'm here to teach you how to wake up some day and step into your dream. When you open your eyes one day and pull the curtain of your current life away and step into your dream life. When your feet touch the ground on that morning, you will realize that you are in your dream house. When you listen to the first sounds of that day, you will realize it is that son or daughter you always wanted. When you turn aside in blizz your eyes will see that loved one you always wanted in your life.
That day, remember me. That young boy in the kitchen with his mother, without the current. But most of all remember the old you. The you that struggled like me. The you that thought it was maybe not possible. The you that thought that all life's gift would pass away to all other people. That old you that thought: I will never make it this month. But just spend a few seconds in that old you. But come back right where you are in the new moment. Enjoy the blizz. Be grateful for the new bigger You. Do the same what I do when I wake up now in my villa in the Caribbean next to my beautiful wife.Do the same what I do when I walk to the beach, just 700 meters away from my home and I watch the sunset in full amazement. I made it. I'm living my dream. How is this possible? Am I dreaming? Step into your dream while you are awake. And never wake up.
I feel I know exactly what you are feeling right now. Cause my life used to be the same. But I made it.
If you want to know more, keep following my episodes, open my mails. If you are a coach or trainer who wants to help your customers online and you have a dream – this will be for you.
I'm upping my game. And next month, I'm going to Laguna Beach to meet my coach who was an introvert and now turned into this brilliant coach and trainer who does over 7 figure launches. You see, we can all tap in to the unlimited potential we have in side.
Put that dream into your mind.
Feel that dream in your heart
And you will have it in your hands.
If you are reading this from anywhere in the world, pass it to anyone you know who want to realize their dream online.
Send them to me… mydreambusinesscoach.com.
If you are not yet subscribed to my tips and free training and coaching on how to realize your dream life and dream online business sign up at sign-up.mydreambusinesscoach.com right now and visit my website mydreambusinesscoach.com. It is free and takes you only 10 seconds. 10 seconds that could change your life. 10 seconds you invest today in your dream. And stay put for what I'm soon going to share with you. Share this message with your friends.
And tell them, that I'm still that little boy of 7, with that imagination. That anything you think you can do is possible.
-Runy
Comments
comments